Hello RHS Class of 1956 members,
I am creating a web site for your class so please bear with me during the early stages. If you have any photos or anything else that I could add to the site please send them to me and I will make sure you get them back. Also, if you could provide me with addititonal email addresses of your classmates I will add them to the email page. I would appreciate your comments so click on the guestbook link and sign in. Thanks.
jsutfin@mchsi.com
John Sutfin, RHS Class of 1961
PO Box 225 - Robinson, Il 62454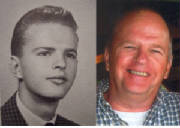 YOUR WEBMASTER, THEN & NOW
Old RHS Comes tumbling down...
Click here to go to RHS Class Sites 1954 - 1964
Click on the links below to sign or view the guestbook.