Hello,
Welcome to the Class of 1960 web site I am working on. I will be adding more pictures and other information as I get it. If you have pictures or anything else that you would like to share send it to me at: PO Box 225 - Robinson, IL 62454. I will return it to you.
John Sutfin, Class of 1961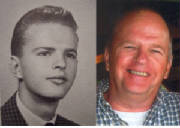 YOUR WEBMASTER, THEN & NOW
Pictures may take some time to upload...