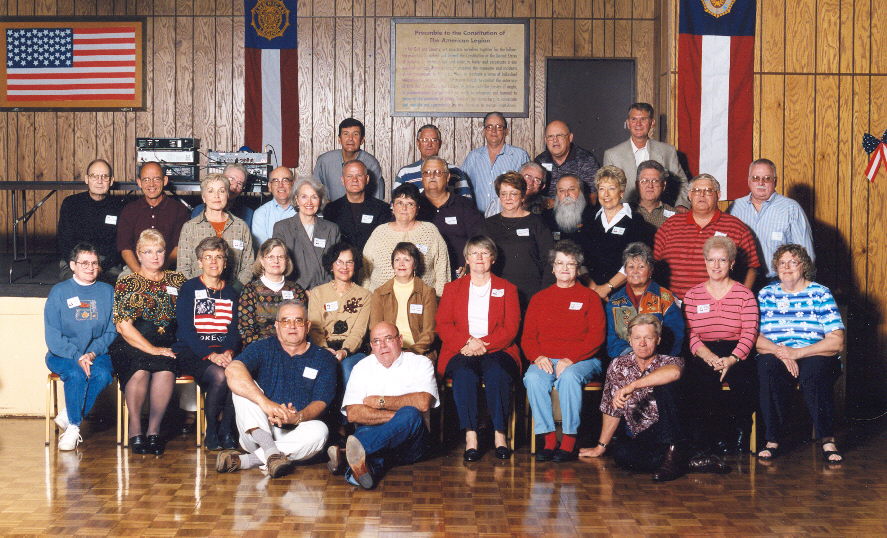 On the floor, left to right: Charlie Germann, Chuck Reinoehl and Ted Berry.
1st row, left to right: Nan Mikeworth O'Dell, Nancy Garrard Bonneli-Zook, Sally Carrow Coagill, Nancy Staley Ferguson, Charlene Plummer Riipii, Karen Johnson Barker, Barbara Leonard Murray, Donna Beabout, Shirley Mendenhall Berry, Joyce Mullins Maurer, Joyce Chapman Kennelly,
2nd row, left to right: Becky Parker Montgomery. Rosalie Bush-Ryall, Susan Holmes Rodgers, Anita Dranold Bainter, Sharon Stahl Kirk, David Fritchie.
3rd row, left to right: Bill Schnake, John Schnake, Dick Miller, Wayne Tracy, Joe Sutfin, Jim Kilburn, Ron Legg, Dan Lawhead, Larry McCormick, Kevin Knell.
4th row, left to right: Chuck Ferguson, Dee Culp, Gordon Cannady, Wynn Ritch, Duane Skidmore.