The Robinson High School Class of 1964 held its 40th reunion on Saturday, October 2, 2004 at the Executive Inn in Vincennes. There were sixty-four class members in attendance and one faculty member. The reunion events began with a Friday night party hosted by Larry Lewis. On Saturday, several members toured the high school, went to the Toffee Festival, and attended the football game. There was an afternoon reception for the ladies at the Executive Inn hosted by Janet Ewing Clark. Saturday evening, after a buffet dinner, 101 class members and guests danced to the music of Hot Rod Lincoln. Sunday morning, found many lingering for breakfast and more reminiscing. Everyone attending received a booklet and a commemorative wine glass. The planning committee consisted of Janey Beach Branson, Connie Quick Carter, Janet Ewing Clark, Randy Fuller, Janet Legg, Jim Love, Rick and Norma Lowrance Lowe. Karen Henry Reinoehl, Patti Mcintosh Reynolds, and Terry Schmidt who designed the booklets. The next class reunion will be held in 2009. Marjorie McNamara Moore is planning a cruise for interested members in 2006.
40th Reunion 2004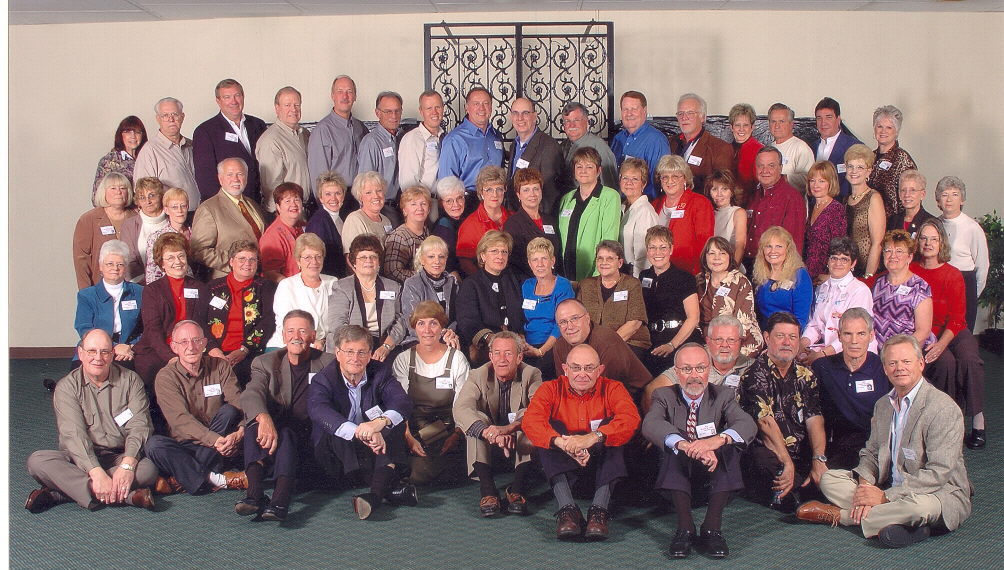 Front Row: Terry Schmidt, Bob Knight, Robert Vernia, David Correll, Carol Mieure Kirk, Dick Helvie, Larry DeVore, Gary Connett, Tom Steele, Rick Lowe, Larry Lewis, Jerry Zachary, counselor, and Randy Fuller.
2nd Row: Viola Haner Lang, Janet Ewing Clark, Betty Richardson Comstock, Nann Ruse Eytcheson, Karen Henry Reinoehl, Mary Culp Wood, Evelyn Bower Laxgang, Marjorie Moore McNamara, Louise White Williamson, Pam Love Morrison, Paula Wright DeVore, Rita Brunson Ford, Ingrid Enlow Monk, Patti McIntosh Reynolds, and Linda Athey McCoy.
3rd Row: Margaret Berger Cravens, Sandra Vaughn Keller, Marilyn Jones Urfer, Rick Price, Karen Brooks Tucker, Karen Neathery Harper, Janet Legg, Brenda Waite Fouty, Janice Kelly Cox, Connie Quick Carter, Norma Lowrance Lowe, Vickie Newsome Lauder, Techla Richart Stromberg, Gerri Daniels, Miriam Connor, Jim Ramsey, Mary Fitzpatrick McKinney, Cynthia Haskell Cherry, Janey Beach Branson, and Nancy Rich Goble.
4th Row: Nancy Bryan Weger, Don Williamson, Larry Burbank, Jim Love, Melvin Knoblett, Ron Fouty, Bill Farrer, Jim Ferguson, Joe Dale, Doug Wood, J.C. Ford, John Gallatin, Diane Mutchmore Crampton, Darold Crampton, Gilbert Howe, and Jody Sanders Cooper. Harold Frauli also attended.