45th Reunion 2004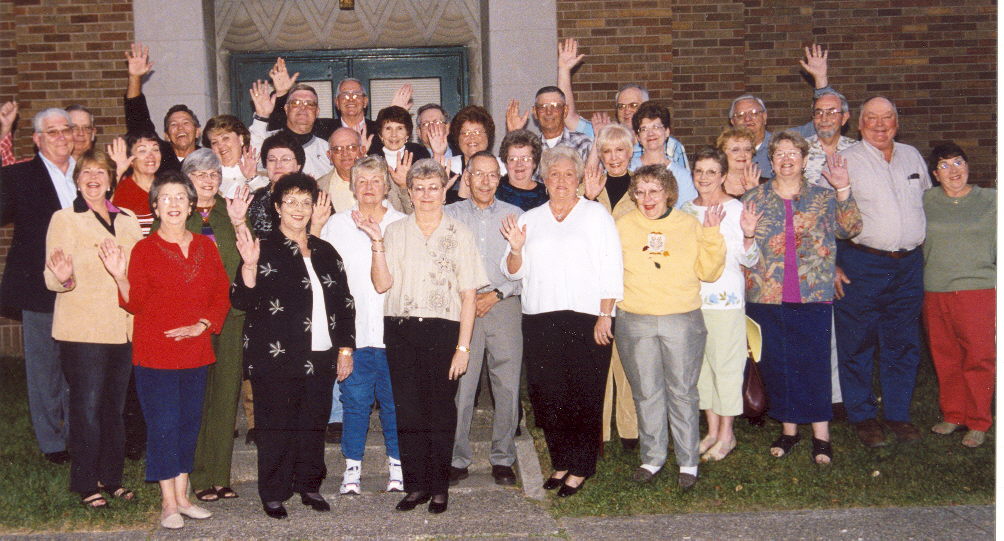 Front row: Joyce Paddock, Linda (Parker) Sparks, Ann (Sloan) Kesler, Sharon (Seaney) McSchooler, and Janice (Adams) Evans.

2nd row: Carolyn (Gilliatt) Henderson, Carolyn (Jewell) Chandler, Kay Bennett) Hopek, Nancy (Willard) Nicol, Richard Ruddell, Faith (Rich) White, Barbara (Drake) Hohlbaugh, Judy (Kerins) Marcoline, and Judy (Dollahan) McIntosh.

3rd row: Terry Manning, Lois (Christine) Ulrey, Sarah (Helvie) Alexander, Leonard Sisil, Coreta (Murphy) Sparks, Joyce (Bond) Henry, Dora Ann (Harrison) Holmes, Alan Blair, and Earlene (Bush) Higgins.

4th row: Charles Kennedy, Don Murphy, Dan Otey, Steve Henderson, Barbara (Faith) Alexander, Richard Boyd, Bob McCarter, Gary Jordan, Phillip DeLorme, and Harry Wampler.
40th Reunion 1999
Front Row, left to right: Allen Winger, Steve Henderson, Terry Manning, Charles Kennedy, Carl Skaggs, Bob McCarter.

2nd Row: Earlene Bush Higgins, Joyce Brantley Shaw, Joyce Littlejohn, Joyce Paddock, Faith Rich White, Ann Sloan kesler, Coreta Murphy Sparks, Judy Kerr King, Barbara Drake Hohlbaugh.

3rd Row: Carolyn Jewell Chandler, James Ireland, Lois Christine Ulrey, Linda Meese Frauli, Barbara Faith Alexander, Dene Love Larsen, Sharon Murphy Tobiason, Irene Van Winkle Waldroup, Carolyn Gilliatt Henderson.

Back Row: Kay Bennett Hopek, Harry Wampler, Mary Hayden Helm, Larry Pritchard, Charles Jourdan, Danny Otey.