Robinson High School class of 1960 celebrated its 45th reunion on October 15, at Quail Creek Country Club.
Mark Weber served as master of ceremonies and Dwain Peak conducted an auction of a Maroon throw rug, RHS bricks, and RHS teddy bears made by Lana Brannon. A donation of $150 was given to the RHS Alumni Association and Academic Foundation. Planning Committee members recognized were Stanley Batman, Garry and Donna Branson, Jane Chamblin, John Goff, Vaughn and Sue Johnson, Lynn McCord, Duane Parker, Rita Pryor and Barbara Richey.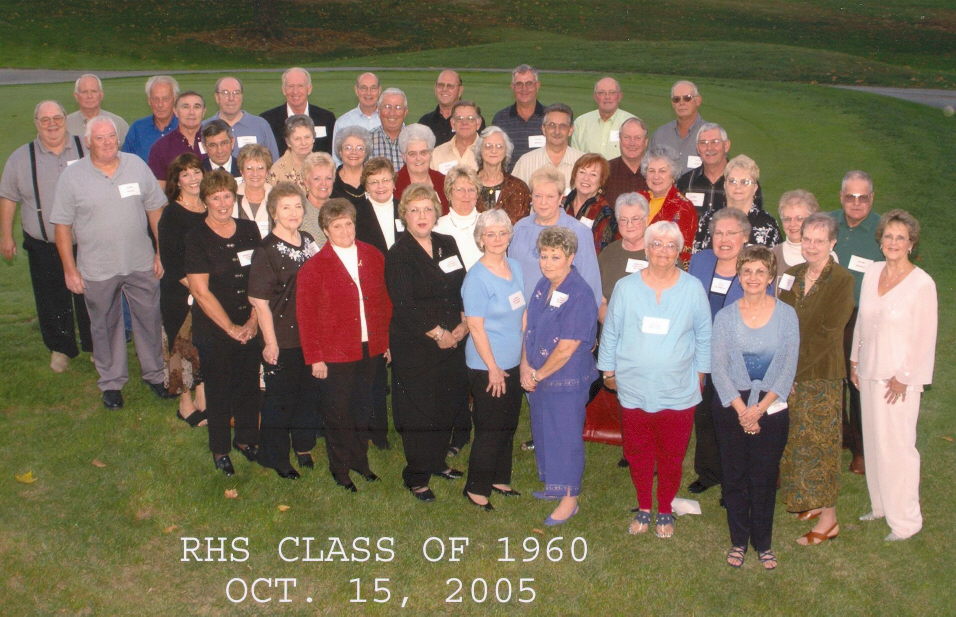 First row are: Bobbie (Herrin) Goings, Claudette (Krise) McKneelen, Nadine (Henry) Fitts, Nancy (Minnick) Dunlap, Sandra (Wampler) Taylor, Rheta (Reinoehl) Waldrop, Lana (Decker) Brannon, and Rita (Bayes) Pryor.
Second row are Jamie (Johnston) Blakely, Barbara (Fox) Bailey, Connie (Helvie) Maus, DeEtta (Snider) Seitzinger, Sue (Tohill) Johnson, Alma Jean (Clark) Weger, Dorothy (Christine) Hughes, Jane Chamblin, Lynn McCord, teacher Macalene (Riegel) Reid, and Barbara (Skaggs) Patterson Richey.
Third row are Keith Wesley, Mark Weber, Beverly (Bonesteel) Matheny, Lynne (French) Sanderson, Judy (Montgomery) Kirk, Nancy (Bradbury) Banning, Mary (Catt) Rudy, Donna (Miller) Branson, Nina (Meek) Martin, and Harry Redman.
Fourth row are John Battershell, Stanley Batman, Robert Maus, Duane Parker, Arthur Stanley, John Goff, and Garry Branson.
Fifth row are Vaughn Johnson, Steve Daron, Mervyn Correll, Jack Morris, J.D. Seitzinger, Harley Goff, Frank Draper, Dwain Peak, and Jack Daron.